Cervical Cancer
Cervical Cancer in Honduras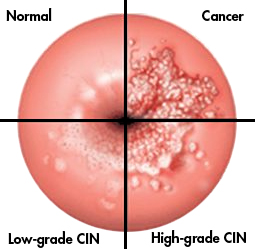 Cervical cancer is a progressive neoplastic syndrome of the cells of the cervix. Although most invasive cancer arises from squamous cells, about 20% of cervical cancer is associated with dysplastic glandular cells (adenocarcinomas).Over time, these cells can develop changes resulting in precancerous or cancerous forms. The progression can range from cervical intraepithelial neoplasia (CIN) to squamous intraepithelial lesions (SIL) to carcinoma in situ and eventually to invasive cancer. Because there is usually a long preinvasive period, during which the risk of metastasis is low and good treatment can be curative, cervical cancer is well suited for screening. Treatment is based on the depth and extent of spread and can be as minimal as cryotherapy or as invasive as a radical hysterectomy. Without treatment, the cancer can metastasize to distant sites and result in death. World-wide, cervical cancer is the second most frequent cancer and fifth most frequent cause of death from cancer among women.
This burden disproportionately impacts the developing world where more than 80% of cases occur. In the year 2000, the World Health Organization (WHO) estimated that there were 471,000 new cases of cervical cancer diagnosed and 233,000 deaths across the globe. Approximately 92,136 of those cases and 37,640 of those deaths were in Latin America and the Caribbean. Globally,cervical cancer has been estimated to account for 2.1% of deaths among women aged 25-64 but in Latin America it accounts for 3.8% of these deaths. The reasons for this disproportionate burden throughout Latin America are not yet completely understood but are thought to be due in part to the high prevalence of HPV infection as well as culturally-specific sexual behavior. In the year 2000, estimates of the age standardized incidence and mortality rate of cervical cancer in Honduras were 39.6 cases per 100,000 women and 16.8 per 100,000 women respectively. This is in comparison to the United States which that same year experienced an incidence rate of only 1.2 cases per 100,000 with mortality totaling 2.8 deaths per 100,000 women. Moreover, unlike in much of the developed world where cervical cancer mortality has decreased over the last thirty years, mortality has remained almost constant in Latin America.
Excerpt from:Cervical Cancer in Honduras
PROTOCOL FOR CERVICAL CANCER SCREENING
SANTA LUCIA, INTIBUCA
SHOULDER TO SHOULDER, INC/HOMBRO A HOMBRO
[http://www.shouldertoshoulder.org]
Introduction
Cervical cancer is relatively common in rural Honduras. Prior to 2003 the population of Santa Lucia, Intibucá was largely unscreened. With the implementation of an effective screening program we hope that this devastating disease will be preventable in the community.
Because of the infrastructure and technology involved, Pap smear screening programs are expensive and difficult to implement in low resource areas. Visual inspection with acidic acid (VIA), an alternative screening technique that has been used successfully in areas of India, Africa and China, is more practical and cost effective. The advantages are that this method requires few resources and the results are immediately available. Colposcopy and immediate treatment with cryotherapy can be safely accomplished in selected cases. Because of the many obstacles to care in low resource areas, a one or two visit approach to diagnosis and treatment cervical dysplasia is advantageous. It is of key importance to specifically target the women at most risk: women who have never been screened, particularly those between the ages or 35-45. Improved understanding of the natural history of HPV infection allows better identification of the women at highest risk, those who may be persistent HPV carriers. Initially most screening will be brigade based, though it is hoped in the future that screening could become community based and self sustaining. Colposcopy, biopsy, and treatment with cryocautery may remain brigade based at least for the near future.
Goals for Santa Lucia Area:
1. To develop an effective cervical cancer screening program based on Visual Inspection with Acetic Acid.
2. To minimize the number of visits necessary to diagnose and treat cervical dysplasia
3. To make colposcopy and treatment of early cervical disease with cryocautery available in Santa Lucia during each brigade. Women with more advanced lesions would still need referral to a gynecologist in La Esperanza.
4. To design and implement an effective tracking and follow-up system.
5. To make screening available to women in surrounding communities.
Population to screen:
The screening group is women between the ages of 30 and 70. The target group is never screened women between the ages of 35-45.
The specific goal would be to try to screen all community women once or twice in their life, preferably between the ages of 35-45.
Priority should be given to those women who have either never been screened or have not been screened for more than 5 years.
Screening of women under 30 should be avoided. Cervical Ca is rare in this age group. Discovery of transient HPV infections leads to false positive tests, unnecessary biopsies, and wastes time and resources. Efforts should be concentrated on identifying older women who may be persistent HPV carriers and thus at higher risk for developing cervica lcancer.
Screening Intervals and Follow-up
If VIA negative, repeat in 2-3 years
If VIA was abnormal, but colpo & biopsy negative:

Repeat VIA and +/- PAP in 1 year

If treated for dysplasia, perform VIA and Pap in 6-12 months
Visual Inspection with acetic acid:
Materials needed to perform VIA Procedure
Bright Light (head lamp or bright flashlight in areas without electricity),
Plastic vaginal specula,
Gloves
Large and small cotton swabs
3-5% acetic acid (white vinegar)
Lubricant
Sheets to cover patients
Santa Lucia: Gyn room and all materials are available
Field Clinics: Additional Materials:
A private area for to examine women, a table or desk, extra sheets, blankets, rope, duct tape, IV poles to construct private exam areas; sheets to cover women, material to cover tables or desks, an inflatable pillow w/ pillow case; patient info materials, posters to promote the program; registration and charting materials; referral slips. (It is best to notify a community of the need of a private area for GYN exams before arrival.)
How to Perform VIA
Explain gyn exam and VIA procedure; use visual aids during explanation
Take brief ob-gyn history
Do targeted physical exam: BP, breast and abdominal exams
Do speculum exam
Wipe away secretions
Apply 5% acetic acid with large swab or spray
Wait 2 minutes
Look for white areas
Perform bimanual exam
Record results
VIA Normal
Normal appearing cervix
No aceto-white changes seen
Minimal translucent or very pale white epithelium at squamo-columnar junction is normal
Record result
No further testing needed
Rescreen 2-3 yrs
VIA Abnormal
Opaque white epithelium in area of SCJ results after acetic acid application
Obvious lesion
Unusually elongated or hardened cervix
Record result and arrange referral:
In Santa Lucia 2 options:
1. Perform Pap and Colposcopy
Do cervical biopsy and ecc if indicated
If an obvious suspicious lesion is present, perform immediate colpo and biopsy
If no suspicion of cancer, immediate treatment with cryocautery may be appropriate in selected cases (See Below)
2. Give the patient a definite appointment for colpo and possible treatment on another day. Obtain and record name, address and all contact info.
In a field clinic:
Inform patient of abnormal results
Give referral slip with an appointment for colposcopy in Santa Lucia with a date and time to be done within a few days. If not possible then, schedule for the next brigade. Obtain all contact info and place patient on abnormal sheet (sheet 2-Abnormal VIA) of VIA Excel spread sheet.
VIA Indeterminate:
If adequate visualization not obtained, significant tactile bleeding occurs, or cervix is elongated, hardened or abnormally shaped
In Santa Lucia, perform Colposcopy. Do pap, biopsy and ecc when indicated
In field clinic, give referral to Santa Lucia clinic for colposcopy
Role of Pap Smears
Paps should only be done on those women with abnormal VIA or colposcopies who may have to be referred to a Honduran Gyn. Gynecologists often want this info. It could waste a visit to La Esperanza where only a pap would be done.
Colposcopy Protocol
If VIA is indeterminate, positive, or if a suspicious lesion is present, perform Pap and colposcopy. If colposcopic exam appears abnormal, do targeted biopsy and ecc as indicated.
If obvious invasive cancer is seen, refer to gynecologist in La Esperanza.
If suspicious for cancer, do Pap, colpo, biopsy, and ecc. Refer when results are available
Cryocautery Protocol
If probable dysplasia confined to the portia, covering less than 75% of cervix and not extending into cervical canal is present, the patient should receive Pap, biopsy, +/- ecc. Patient would be a candidate for immediate treatment with cryocautery if available and desired. If not, patient can be given a definite appointment another day or she can be referred to La Esperanza when biopsy results are available.
Brigade Based Screening:
Attempts should be made to orient and pre-train screeners prior to arrival when possible. If our screeners are pre-trained, then we can spend more time training staff based in Honduras so that screening can be available throughout the year.
Attempts should be made to train Honduran physicians, nurses and health care professionals to do screening.
Community Preparation:
Prior to brigades, notify Hombro a Hombro physicians and Santa Lucia personnel of what Gyn services will be available during the brigade. Ask them notify to any communities of the plans for field clinic screening so that appropriate preparations are made.
Documentation and charting:
Registration System: It is of utmost importance to record patients name and village correctly.
Understanding the Honduran name system:
Most Honduran women have 2 first names and 2 last names. They should be asked for all of their names. eg Maria Elena Lemus Gomez. We have been registering and entering in the Excel spreadsheet for follow-up by the 1st last name, then the second last name, then by the 1st and 2nd first names
Recording System:
Record correct village- esp in field clinics. It is important to ask every woman where she actually lives. At field clinics, some women may not be from that village. This is important if we have to contact them later.
Record if patient has been a patient in the main Santa Lucia clinic: they will have a chart number and their screening form can be filed in their main Sta Lucia clinic chart.
Record each person seen on the Cervical Cancer Screening Sheet and fill in Santa Lucia chart number and other info. Fill out a gyn exam sheet on each patient and leave it in the chart.
At the end of day input all patients from these Screening Sheet into the Excel Spread sheet
Put names of any patients with abnormal findings on sheet 2 (abnormal list ) Excel spread sheet with the follow-up plan.
For Field clinics, names of those given referrals for abnormal VIA should be separated and given to the secretary so that charts are for them can be made right away and will be ready when they come to Santa Lucia for Colpo or follow-up.
Have support staff file GYN sheets of established patients in their regular chart. Those with normal VIA results, but no chart in Santa Lucia can have charts made up later or alternatively VIA sheets on these women with no charts can be placed in a separate file in the clinic.
Source
http://www.shouldertoshoulder.org/published_articles.html
Other articles:
Safety, acceptability, and feasibility of a single-visit approach to cervical-cancer prevention in rural Thailand: a demonstration project